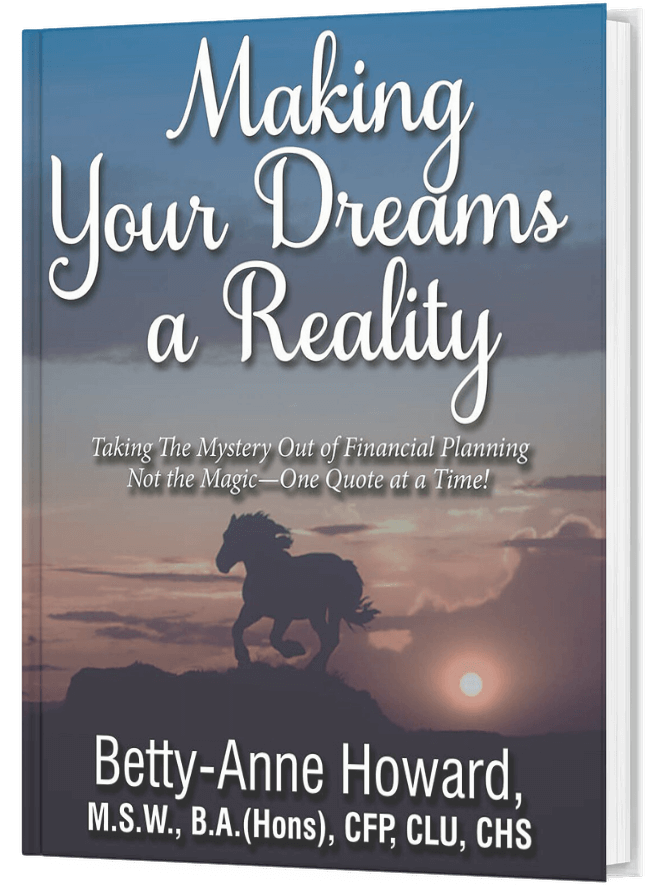 Making Your Dreams A Reality – by Betty-Anne Howard
Taking The Mystery Out of Financial Planning—Not the Magic—One Quote at a Time!
Author: Betty-Anne Howard
Based on a series of inspirational and thought-provoking quotes about life and money, this book by Betty-Anne Howard invites you to re-think your relationship with money. Making Your Dreams A Reality describes how you can align your core values and personal development with your financial planning, in a way that resonates with your own life journey.
Betty-Anne Howard, Maggie Ashton, and Marlene Armstrong spent an entire weekend, between meals and riding horses, and gathering with friends, discussing the meaning behind these quotes, going deeper both personally and professionally, and they share their insights with you.
Inside You'll Discover How To:
Reignite the dreamer in you
Carve out a financial path that aligns with your core values
Realize that the magic is in the journey
Deepen your commitment to your future
Inspire you to see what is possible
Blend and balance personal development and financial planning
Infuse your life with the meaning behind the money
Thoughtfully connect your use of resources to what really matters in your life
This book is warm, heartfelt, and most of all inspiring. It captures the true essence and importance of financial planning in a fun, thought-provoking way. Grab a cup of tea, sit down, and enjoy! Betty-Anne's candour is refreshing and will leave you wanting more.
Sarita Rebelo
MPA, Wife, Mother, Policy Analyst, and Client of Betty-Anne's, Ottawa, Ontario
Similar to how Susan Cain's Quiet revolutionized the way the world views introversion, this deeply insightful book promises to revolutionize the way we all view another frequently misunderstood subject: the field of financial planning. Howard offers an examination of a topic that takes up much of our time—money—and somehow manages to do so in such a fresh, charming, and inviting manner that even the most finance-phobic out there will find themselves won over. Overflowing with inspiring quotes and illuminating anecdotes, this is a book for anyone seeking clarity regarding their personal finances—that is to say, everyone.
Brooke Warner
Publisher, She Writes Press, Berkley, California
Horses, magic, unicorns, phoenix rising! What, you may ask, does this have to do with financial planning? Read on my friend as Betty-Anne Howard has managed to tap into the heart and soul of our industry with the help of her co-creators. This book is a rare gift: motivating, inspiring, while educating you about the true nature and what is at the core, for many of us, working within financial services.
Chris Reynolds
President and CEO, Investment Planning Counsel, Inc.
What I love and appreciate about Betty-Anne's book is each chapter is joyfully serious. A scene is painted and a provocative question asked. I was left both thoughtful and inspired. And I should also add, I was left seriously joyful!
Tim McElvaine
President, McElvaine Investment Management Ltd.

For over 20 years, Betty-Anne has been guiding women, couples and families to realize their financial dreams and has shared her vision with audiences around the world.
Growing up in poverty and fueled by her father's illiteracy in rural Ontario, Betty-Anne became committed to higher learning; becoming the first person in her family to attend university.
Before becoming a Certified Financial Planner®, she spent 17 years in the social and emotional health services field as a counsellor and teacher. This experience, in addition to her Master's Degree in Social Work and Honours Degree in Psychology, has informed her more holistic approach to Financial Planning.